CRBN Pickleball's Statements Regarding USA Pickleball Paddle Unapproval
---
May 30, 2022
Dear CRBN Family,
We have published the options we are offering our CRBN paddle customers. Click this link to read more.
Sincerely,
Garrett Gosselin, Owner & Founder of CRBN Pickleball
---
May 26, 2022
Dear CRBN Family,
I have some exciting news to share! After many sleepless nights working to get this done, our team has successfully gotten our newest batch of paddles–and all subsequent paddles–added back to USAP's approval list.
What does this mean?
This means that we can now officially move forward with our plans to get new paddles in the hands of our customers. We will outline exactly how this will work by this weekend in another statement. As you can imagine, there is an immense amount of complication trying to coordinate something at this scale with a very small team. We are ironing out the last few details and will communicate the options to you as soon as possible this weekend.
How will you know the difference between approved and non-approved paddles?
Our newest batch and all subsequent batches will have a small, laser-etched serial code on the bottom left of one of the paddle faces. This is what the USAP is using to differentiate "new" versus "old". At this point, if your paddle does not have a serial code, your paddle is not allowed to be used in USAP-sanctioned tournaments. It is fine to use in any recreational play for those who don't plan on playing in tournaments. I will attach a photo showing the serial code to make sure it's clear where to look.
Timeline
We have already expedited the new batch of paddles and we hope to start shipping replacement paddles by early to mid June. We can't give exact dates yet, since as you probably know, global supply chains are very uncertain these days. Rest assured, we are doing everything we can to move things along quickly.
Who will be eligible?
Everyone. If you have purchased a CRBN Paddle from us directly or an approved reseller, we will take care of you. We can't promise it will happen as fast as you'd like it to, but we are doing everything in our power to move quickly even with the difficult circumstances.
Please stay tuned for the full details to be released this weekend. As always, thank you so much for your support and patience throughout this last month. It means the world to me and our team.
Sincerely,
Garrett Gosselin, Owner & Founder of CRBN Pickleball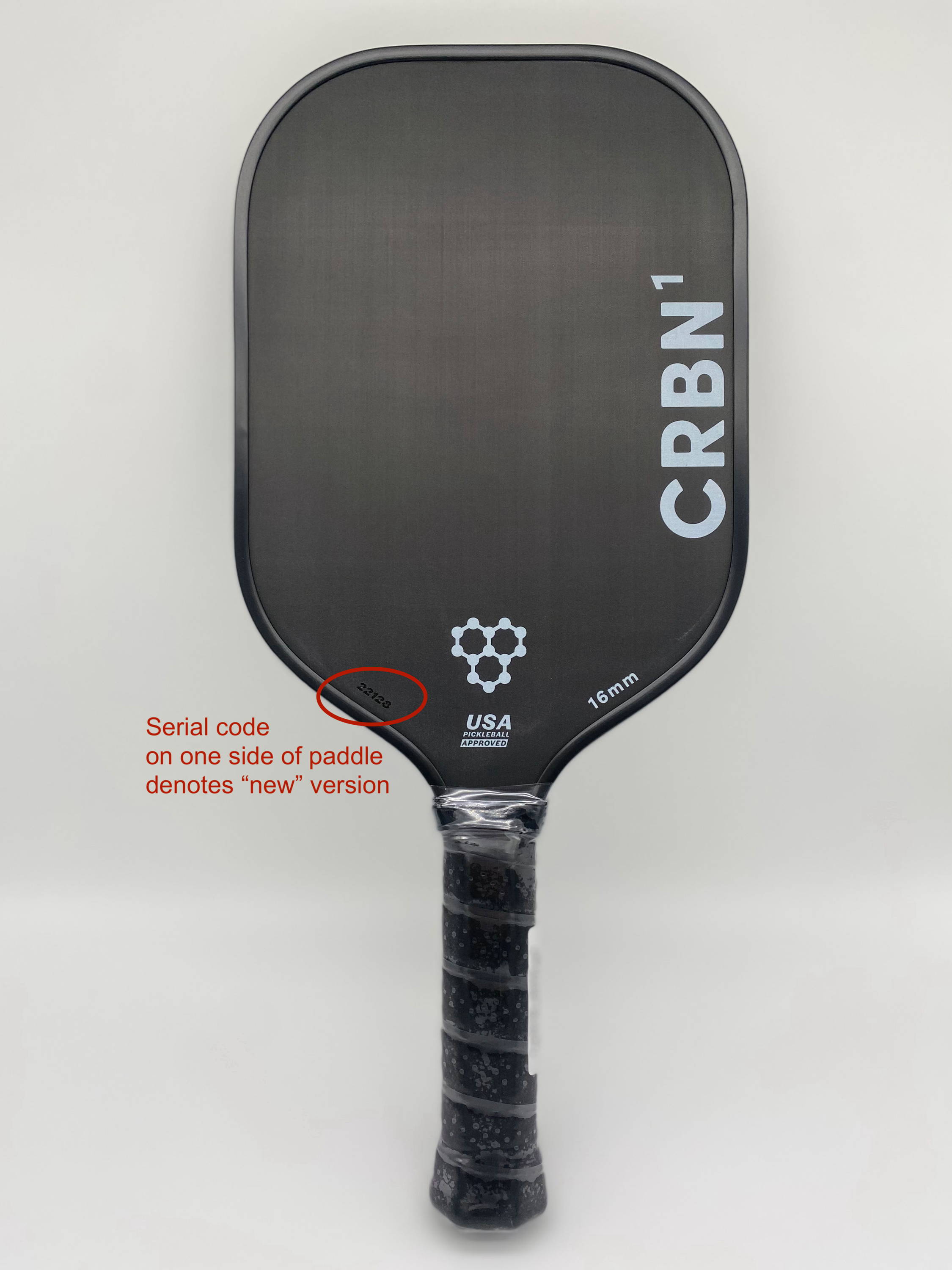 ---
May 13, 2022
Dear CRBN Family,
We appreciate the continued patience and support. I know many of you are eagerly waiting for updates and progress on reapproval. Progress is happening but slower than we had hoped. Here is where we're at.
We had a productive meeting with the USAP and now better understand what reapproval entails. In a previous statement, we made mention of the potential for immediate reapproval of Gen 1 and Gen 2 paddles. After much deliberation, we have made the difficult decision to postpone (indefinitely for now) that battle even though we are confident that the majority of all CRBN Paddles in circulation are compliant and that the roughness issues were isolated to a single batch. The USAP made it clear that they weren't willing to reinstate Gen 1 or Gen 2 unless there was 100% guaranteed compliance–meaning if a single paddle tested out of compliance, this ban process would start all over again, which is a risk we aren't willing to take. I'm sure many of you like us might question a 100% compliance requirement given the inherent variability of Starrett Meter roughness testing and the variability of paddle surfaces, but frankly, that doesn't matter at this point since our priority is to get all subsequent batches approved as fast as possible.
As a small privately owned business, we don't have the bandwidth or capital to protest those decisions while simultaneously working towards getting future paddles approved. Instead, we have put our complete focus on getting our next batch of paddles added to the approved list. We are confident this is the best path forward for our customers and for our business. It is the fastest way to get our athletes and customers playing with CRBN in tournaments.
Improved quality assurance procedures are already in place and from this point forward, each new paddle will be serialized for better lot traceability. We have already completed our new batch and are working as quickly as possible to get them in the hands of USAP officials for review. They have assured us a swift path towards approval of this batch and ongoing batches provided they meet all compliance requirements. We are confident they will.
Here is where that leaves you as a CRBN paddle owner. This is our tentative plan, but please remember this situation is fluid so these options may change depending on the situation.
If you are a recreational player who doesn't play in sanctioned tournaments, you are 100% allowed to play with your CRBN Paddle, and we would appreciate your support and willingness to keep your paddle. Roughness issues affected a tiny percentage of paddles from our most recent batch, so it is very unlikely yours is out of compliance. That information is important to remember and convey to anyone who questions the legality of your paddle in rec play.

If you ordered a paddle from us on 4/1/22 or more recently, you are covered by our satisfaction guarantee. It's normally a 30 day window, but we back dated that to be 30 days from the ban. You are free to reach out to us and return your paddle for refund or exchange, no questions asked.

If you are a tournament player outside of the 30 day window, we are working as fast as possible to get our new batch of paddles reinstated. We will have various options for you. We will outline what those will be as soon as we get confirmation of reapproval and can move forward shipping the new batch of paddles. Tentatively, we are hoping we can get reapproval in the next few weeks and will have approved paddles available for distribution by the end of the month or early June at the latest.
We understand that this timeline is not ideal and that this ban has put many of you in a bind. For that we're very sorry. We never expected something like this to happen the way that it did. This situation is unprecedented, but rest assured, we will do whatever it takes to overcome it. We are working all day and night to make this right for each and every one of you.
Sincerely,
Garrett Gosselin, Owner & Founder of CRBN Pickleball
---
May 5, 2022
Dear CRBN Family,
We know that many of you are waiting for us to tell you how we will be handling this paddle situation and when/if you can play with your paddle in tournaments. We can assure you that we are doing everything in our power to get this rectified in a timely fashion, but we are still waiting on the USAP before we can move forward. This process is moving much slower than we would have hoped, and we wanted to give you this update with all the information we have thus far.
This afternoon, USAP replied to our initial contact email that we sent on Tuesday and is proposing a meeting middle to end of next week. We are pushing to get that meeting scheduled for Monday or as soon as possible. We are hoping the USAP sees this situation as a priority in order to come up with a swift resolution.
Thanks again to our customers and supporters for your patience. We will make things right with every one of you and will update you as soon as we have more information.
Sincerely,
Garrett Gosselin, Owner & Founder of CRBN Pickleball
---
May 1, 2022
Dear CRBN Family,
I sincerely appreciate your patience waiting for our reply to the recent events that involve our paddles. I have been trying to digest the events of the past week, understand the decisions made by USA Pickleball, and put together a plan of action. My hope is that I can shed some light on the situation and instill confidence in our loyal supporters–and even those of you on the fence–that we will make things right.
On Thursday April 28th at the US Open, the USAP brought to our attention that a few of our paddles did not pass the established USAP paddle requirements for surface roughness at their lab. We volunteered to have USAP run two more unofficial in-field tests on CRBN paddles at the event using their Starrett SR160 surface roughness tester. The result of that test showed that the paddles were outside their standards, however, it is important to note that other CRBN paddles (we have three generations of the CRBN1 and CRBN2 paddles) did pass additional in-field tests including our sponsored pro, Michelle Esquivel's CRBN paddle.
At the request of USAP, we proactively informed our pro athletes–both sponsored and unsponsored–to stop using their paddles the rest of the tournament including Michelle Esquivel with her passing paddle. We made this decision alongside the USAP with the implied understanding that this was the best way to ensure a level playing field and to give us time to meet with the USAP to understand the scope of the issue and develop a plan together to address it, if necessary. Much to our surprise, on Friday April 29th, the USAP announced a ban on our paddles and removed them from their list of approved paddles after calling an internal "emergency meeting".
Frankly, we were as shocked as you were and completely caught off guard. To our knowledge this type of action by the USAP is unprecedented. In recent years, numerous paddle companies have produced unintentional, noncompliant batches of paddles and received official warnings along with the ability to rectify the situation. Transparently, it has been frustrating for us as a small business, as we feel singled out amongst the sea of mostly large paddle companies.
We believe that the USAP needs a clear cut and published policy on how they handle noncompliance. It seems as though their actions were reactionary and that we were caught up in the middle of it. Like you, we believe in due process and impartiality both in pickleball as a sport and also as a business within the pickleball community. We believe transparent policies surrounding testing procedures, formal warnings, consequences, timelines, appeals, process for reapproval, etc. are imperative, and when in place have the ability to prevent such widespread confusion. We feel we are entitled to the same formal warning provided to other companies. If it had been provided, I can assure you our actions would have been swift to correct these manufacturing issues.
Both on the court and in business, CRBN Pickleball is committed to complying with all USAP rules and regulations. We are a company of pickleball players ourselves and understand the importance of fairness in this sport that we adore so much. We are adding an additional layer of quality control measures which will provide consistency throughout our paddle line that will ensure we meet the standards outlined by USAP in their rulebook.
To our customers, we will do whatever it takes to fix these issues. We are a very small team who are committed to making sure every single one of you is taken care of. Our team is doing our best to get through all the messages, and ask that you please bear with us as our #1 priority is working towards reapproval. We will have more clarity on what things will look like as soon as we have a follow up conversation with USAP.
As of writing this, all CRBN paddles have been temporarily banned from the USAP approved paddles list. As such, they are currently not allowed for play in USAP, PPA or APP tournaments until further notice. Outside tournament play, the paddles can be used if so desired.
On a positive note, we believe that the majority of all first and second generation CRBN paddles in circulation are within USAP compliance. We believe it was a small percentage of our third generation (our last production run identified by the block type logo) that produced paddles with non-compliant surface roughness. No matter the number of paddles out there, we will make it right with each one of you.
To the USAP, we look forward to continuing this conversation, and we are committed to compliance and working as your partner to ensure fairness and helping to promote the growth of pickleball in the United States and beyond.
In closing, we appreciate all the support we've already received from our loyal fans, customers, partners, and athletes. That's what makes the pickleball community so great, and we're so thankful to be a part of it. We will make this right. We will make sure that the CRBN paddles you know and love are made exactly to our desired specifications every time.

Garrett Gosselin, Owner & Founder of CRBN Pickleball