Team CRBN
Thomas Wilson & Vivienne David
Major League Pickleball Winner 🏆
PPA Champion 🥇
Product Details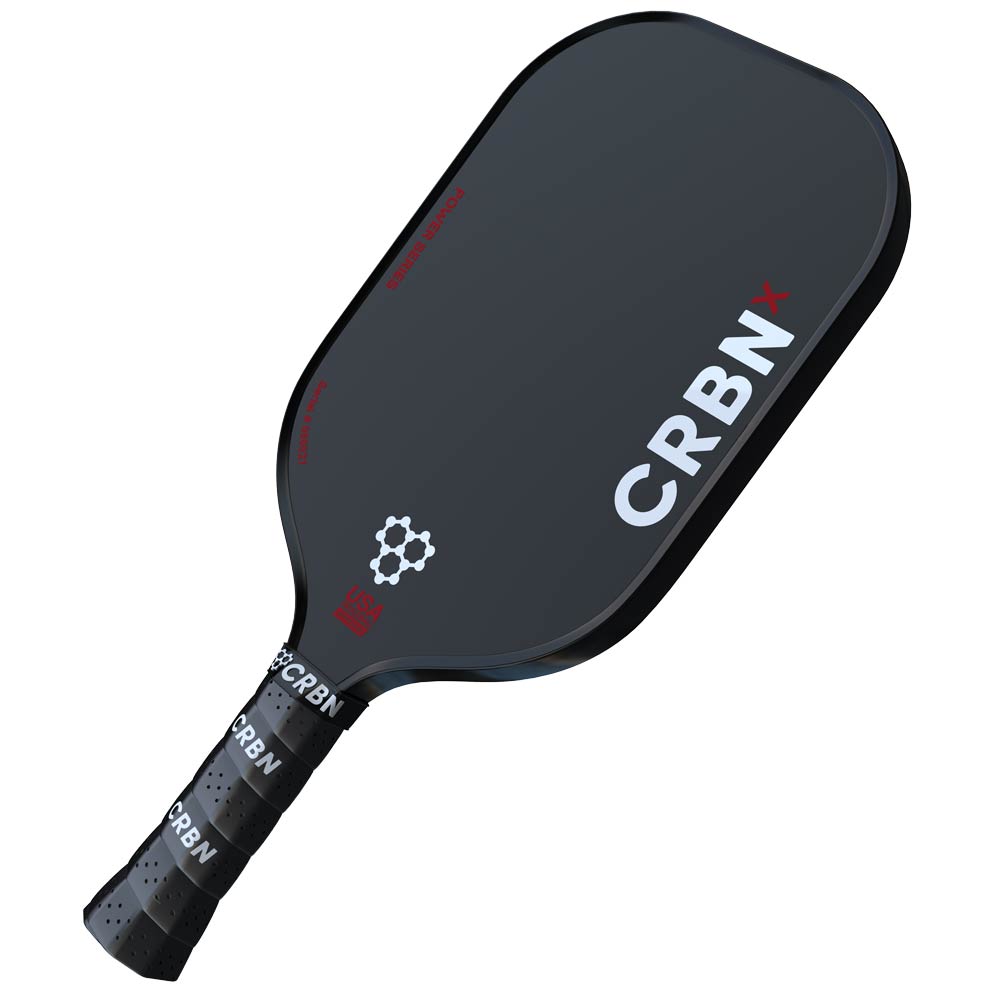 Grit + Spin
T700 Toray Carbon Fiber Surface
Unmatched durability and industry leading spin and dwell time. The exact amount of texture to take your game to the next level.
Durability
Reinforced Unibody Construction
Carbon fiber reinforcement eliminates weak points found in other brands' paddles–bolstering structural integrity and drastically increasing power and pop.
Comfort & Speed
Fortified Handle
New, ergonomic grip geometry reinforced with carbon fiber to reduce vibration and increase hand and paddle speed at the net.
Consistantancy
Massive Sweet Spot
Redesigned internal composition for an expanded sweet spot. Helps eliminate vibration and improve shot consistency and control.
---
Introducing the CRBN Pickleball Power Series: the perfect tool for elite players looking for more power.
This performance pickleball paddle is crafted with the same durable, gritty carbon fiber face that you can expect from CRBN, with additional and unmatched power and pop.
No expense was spared making this the best power-focused carbon fiber paddle on the market. The perfect balance of durability, touch, and power allow you to be even more aggressive on the courts. 

UNIBODY DESIGN
Other brands attach their handle to a separate paddle face creating a weak joint at the neck where the paddle can flex and eventually break. We utilize a unibody design with carbon fiber running from the face down through the handle which stiffens the paddle, makes it more responsive and durable, and provides a more ergonomic grip.
EDGE REINFORCEMENTS
With a unique, enhanced edge wall construction, you can expect more stability, less vibration, and a greatly expanded sweet spot leading to improved shot consistency no matter where you hit the ball.
Dominate the competition and elevate your game with the CRBN Pickleball Power Series.
Every CRBN Paddle comes with a FREE Neoprene Paddle Cover ($20 Value).
Specs:
Total Length: 15.75"

Width: 8"

Core Thickness: 14mm/16mm

Handle Length: 4.75"
Handle Grip Circumference: 4.125"
Weight: 7.8-8.1 oz
Customer Reviews
10/02/2023
C B.

United States
I recommend this product
Outstanding paddle
Best paddle I've used for power and control! I have referred several friends who also bought a CRBN paddles. Great product and outstanding customer service amd product warranty coverage. Thank you CRBN.
09/29/2023
Jacqueline W.

United States
I recommend this product
LOVE IT
CRBN 2X Power Series This paddle has great control. The best part is that the ball pops right off the paddle as well. Which gives you a balance of power and placing your shots! Great quality
09/29/2023
Brian E.

United States
I recommend this product
Great control
This gives me a bit more power and a lot more control, so I love using it.
09/28/2023
Onassis C.

United States
I recommend this product
fantastic
perfect paddle for me
09/28/2023
Rudy H.

United States
I recommend this product
Awesome paddle
I get a crazy amount of control and topspin