Product Details
Massive Sweet Spot
Foam Injected Edge Walls
Specially designed foam injected throughout edges and down through the handle to solidfy and expand the sweet spot and eliminate vibration. Improves shot consistency and control.
Grit + Spin
T700 Toray Carbon Fiber Surface
Unmatched durability and industry leading spin and dwell time. The exact amount of texture to take your game to the next level.
Durability
Reinforced Unibody Construction
Carbon fiber reinforcement eliminates weak points found in other brands' paddles–bolstering structural integrity and drastically increasing power and pop.
Comfort & Speed
Fortified Handle
New, ergonomic grip geometry reinforced with carbon fiber to reduce vibration and increase hand and paddle speed at the net.
TEAM CRBN
DJ Young
2021 World Pickleball Champion
---
Introducing the CRBN Pickleball Power Series: the perfect tool for elite players looking for more power.
This performance pickleball paddle is crafted with the same durable, gritty carbon fiber face that you can expect from CRBN, with additional and unmatched power and pop.
No expense was spared making this the best power-focused carbon fiber paddle on the market. The perfect balance of durability, touch, and power allow you to be even more aggressive on the courts. 

UNIBODY DESIGN
Other brands attach their handle to a separate paddle face creating a weak joint at the neck where the paddle can flex and eventually break. We utilize a unibody design with carbon fiber running from the face down through the handle which stiffens the paddle, makes it more responsive and durable, and provides a more ergonomic grip.
FOAM INJECTED EDGE WALLS
This paddle features injected foam running around the edges and down through the handle. This foam adds stability, eliminates vibration, and greatly expands the sweet spot leading to improved shot consistency no matter where you hit the ball.
Dominate the competition and elevate your game with the CRBN Pickleball Power Series.
Every CRBN Paddle comes with a FREE Neoprene Paddle Cover ($20 Value).
Specs:
Total Length: 16.5"

Width: 7.5"

Core Thickness: 14mm/16mm

Handle length: 5.5"
Handle grip circumference: 4.25"
Weight: 7.8-8.1 oz
Customer Reviews
100
reviewers would recommend this product
Write a Review
I recommend this product
Awesome Paddle
Perfect mix of power and control. Large sweet spot for those controlled shots as well as a solid feel for those power shots. Highly recommend
01/17/2023
Tony V.

United States
01/16/2023
Chauncey S.

United States
I recommend this product
Love, my CRBN
Are use the CRBN 16mm and the CRBN 14mm, and the CRBN 16mm 1X. Depending on how I am feeling and what I want to get from my paddle I interchange. I would not use any other paddle as I feel I get a tremendous amount of response from my one X and 14 mm and on my 16 mm I get a tremendous amount of control. I use them daily from 3 to 4 hours a day and they virtually look brand new the surface stays constant no dead spots ever. Worth every penny.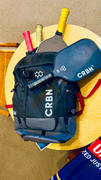 01/13/2023
Kevin B.

United States
I recommend this product
Great next gen Paddle
I have been playing with this paddle for a couple weeks now. I like what the paddle has done for my soft game without lossing any power. Great next step for CRBN in paddle technology,
01/13/2023
Chris P.

United States
I recommend this product
CRBN 1x 16mm
I have been using CRBN paddles for about 6 months and love the 13mm but I bought this 16mm 1x based on Chris Olson's YT review and I haven't been disappointed…the control AND power are there…I didn't think it possible to have both, but here it is! Kudos to CRBN